7 Principles That Help Me Balance My Babies and My Business?
---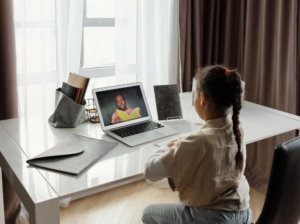 Now, I really don't know how to tell you this… But, some of these virtual classrooms that I have seen via social media really look like prison cells.
#1 – No one wants to look at a wall, or cardboard, or whatever digital background all day. It's monotonous, it's boring. If it was me, I'd fall asleep, stare into space or play on Tik Tok… (While supplies last… Thank you Mr.President…)
*Open up the educational space where the child is either facing a window or a door. The kitchen table is good. That's where I teach from. That wall is not it. Ask the child where he or she prefers to focus for the day.
Choice is really a powerful tool.
#2 – Google some sound beats that will aid in concentration and soothing. Play this in the background. Your child may or may not know how to verbalize stress. But, just like Covid is stressful for you, it's emotionally demanding for them.
#3 – Buy a tent. Yes, a tent. If the child is using a tablet or laptop, give them the autonomy of choosing where they want to focus. Being able to rotate environments to focus are key to maintaining concentration and creativity.
#4 – Take breaks if the educator is not offering one. Have a dance break where your child can dance, throw a football, tend to a plant, do jumping jacks, make slime, make a smoothie, try out some yoga poses or just walk down the street. 
Permit something that will allow them to break up the intensity of focusing. My boys get 15 min breaks for every 50 mins. they have uninterrupted focus time.
#5 – Switch out some of that juice for fruit.
I know, I know … But when the brain is inflamed with sugar it doesn't want to learn; it wants to sleep or play.
#6 – Buy some plants to create a positive environment that will also clean the air.
#7 – If you are finding that you are doing more yelling and screaming, it is likely that you are putting too much pressure on both you and your child(ren). Take a break Sis and ask for support.
When my boys get fidgety, and I'm doing more reprimanding than research, it's a signal. Take a break Sis. If you are finding that your 20 min. breaks slowly graduate to 2 hours and then 2 days, consider a tutor or a Co-op. I have benefited from both. 
This is a new experience for both you and your child(ren). To pretend it is not will likely make you feel like a failure. You are not and neither is your child … it takes time to learn, adapt, and implement.
I've been homeschooling for 10 years. I am #kidtested and #motherapproved and I have the #therapybilltoproveit … and some test scores too.
Finally, don't give your child the answers to their assignments. Doing this will stunt their ability to solve problems and undermine their confidence. That's really the point to all of this.
Don't worry, you've got this Sis. Day by day, you – or the tutor you hire – will be teacher of the year in no time. After all, you're the one voting …
Shani
Get FREE Money Tips!
Add your name to our email list and we will send you valuable money saving tips and strategies straight to your inbox every Monday!